| | |
| --- | --- |
| | |



We are pleased to introduce Precise Knife Sharpening to our US customers. This new sharpening service is run by

Kenneth Schwartz

, who will sharpen and repair your knives - Japanese (both traditional and Western), European (German, French), American, or most any other knife style. With his superior techniques and experience, he sharpens kitchen, pocket and hunting knives to extremely fine sharpness, using traditional hand sharpening techniques with Japanese waterstones. He also has developed other advanced techniques, all of which use hand sharpening, not motorized machine grinding. He uses these techniques to bring out the maximum performance of your knives.

He is flexible with all requests. To find out more abut this exciting new service, please contact him at ksskss @ earthlink.net. More information is also available at http://preciseknifesharpening.blogspot.com/ .

He also makes and sells a sharpener, which lets you precisely control sharpening angles, the Gizmo Knife Sharpener sold at Chef Knives to Go (http://www.chefknivestogo.com/giknsh.html). We strongly recommend purchasing this useful device to obtain extremely sharp edges on your knives.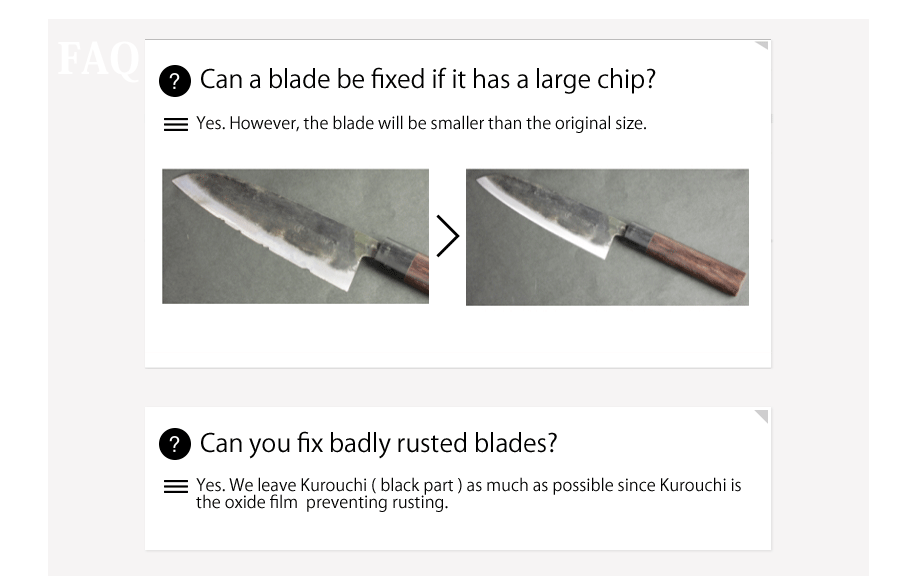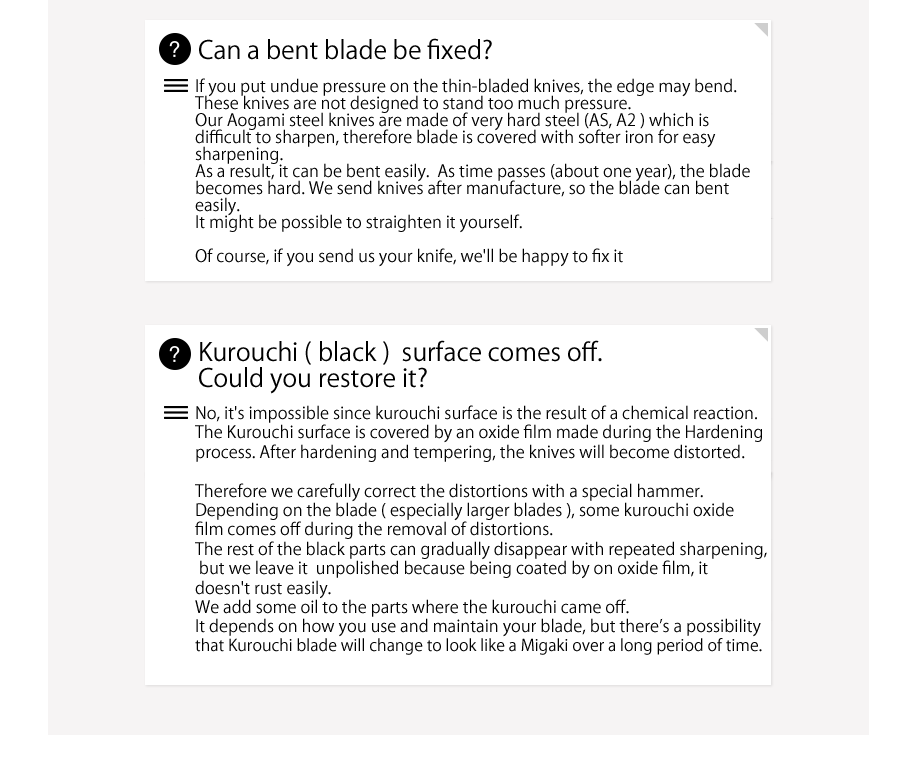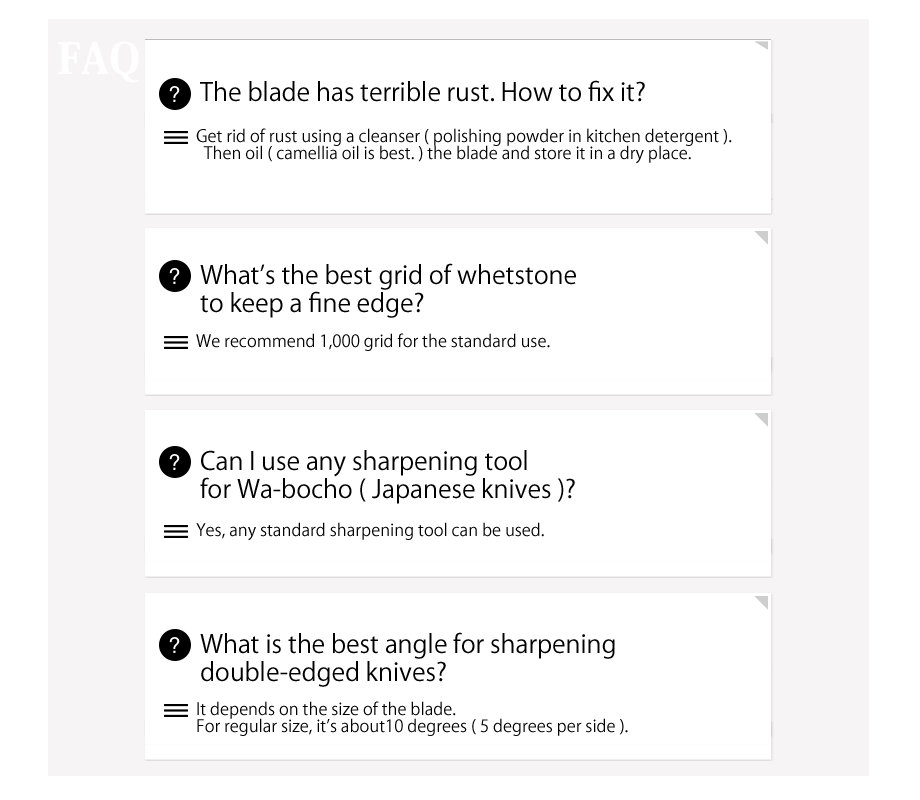 Our maintenance tips
After using the knife, lay it on a flat surface and apply a neutral cleanser (e.g. normal dishwashing detergent) to both the blade and handle. Rub the blade and handle to remove any food residue. Thoroughly rinse the knife under hot water, wipe it dry with a soft cloth and store it in a dry place.

Please note that the blade may have a slightly wavy appearance. This is not a defect! The blade is leveled off to the point where there is no problem for practical use and the slight wave has no effect on performance.


If you do not plan to use the knife for a long period of time, apply a thin layer of oil (food-safe mineral oil or any food-safe oil that won't become rancid over time) to the blade. Wrap the knife in newspaper and store it in a dry place. An alternative and simple yet effective storage method is inserting the blade into an old telephone directory and taping the unbound side of the directory to prevent the knife from slipping out. Be sure to store the knife somewhere that's safe and unreachable by children.




Knife Cleaner
Sharpening stones can be classified as being coarse, medium or fine. For daily use, you will only need to use a medium grit stone. These stones use water as a lubricant, not oil, and are called waterstones.

All knives get dull with use and require resharpening.

Double beveled knives should be held at a constant angle while sharpening. You can use a coin to measure this angle. Place the coin, a penny, under the top side of the knife called the spine, away from the edge. After removing the coin, use your hands to accurately maintain this angle. Use this same angle to sharpen both sides of the knife the same way. If you do not maintain this angle consistently, you will blurr or dull the edge rather than sharpen it. For double beveled knives, you should sharpen an even number of strokes on both sides of the knife.

Single beveled knives are sharpened mostly on the front of the blade. You should sharpen one stroke on the back of the knife for every 10 strokes on the front of the knife.. The front should be done at the angle of the main bevel and the back side done by laying the blade flat on the stone.

Use the whole surface of the stone - not just the middle. This will keep your stone flatter which will make it last longer and give you sharper edges. Again, use your hands to accurately maintain your angles for maximum sharpness.

If your blade has large chips or rust, please send the knife in to us for repair.

We recommend sending your knives to us once or twice a year for resharpening.




Because the handle is made of natural wood, never dry a Moritaka Hamono knife in a dishwasher/dryer. Dishwashers will damage the handle and might damage the blade due to the high temperature and humidity.
Always use a wooden or plastic cutting board.
We strongly recommend that you do not cut frozen food with our knives. Even with our Debabocho knife, caution is strongly advised.
If any of our thin blade kitchen knives are used to cut hard foods such as pumpkin or even semi-hard cheeses, be careful to avoid jerking the blade transversely (avoid left-right movement of the blade). Such movement can nick the blade or chip the tip of the knife. Also, if you put undue pressure on the thin-bladed knife, the edge may become nicked. These knives are not designed to stand too much pressure.
Avoid drying the knives over a direct flame as this will dull the blade and may damage the handle.
Our kitchen knives are designed exclusively for preparing food. Using them for any other purposes may lead to damage.
Avoid drying the knives over a direct flame as this will dull the blade and may damage the handle.
Steel/iron knives require a little more maintenance than stainless steel knives because they will rust without proper care. Please follow the instructions for maintenance given above.
Please handle our knives with care and always keep them out of reach of children.
When new, please refrain from cutting acid food such as lemons.